2012 EVENTS
Participant
Registration
Introduction
Setting The Stage
The War Of 1812
Lacroix's Company
Today - Membership
Soldiers Uniforms
Clothing of the Period
Artillery and Weapons
River Raisin Battlefield
Visitors Center
Friends Of the
River Raisin Battlefield
Biographies of Battle
Participants

Artillery Of The
River Raisin Battle
The British light 3~pounder had a 2.0 inch bore and fired a 3~ pound solid ball with a useful range of about a half mile. It could also fire canisters, which consisted of about 48 musket balls, which performed like a giant shotgun, but effective range was limited to 400 yards or less.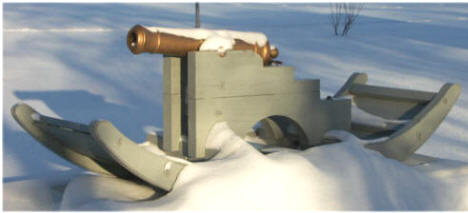 British artillery in the North America used a variety of winter sled arrangements. The exact type used here are not recorded. This 3~ pounder is mounted on a type of winter sled devised in 1796. The inventor was the well known British artillerist, Adye, who was stationed briefly in Detroit in the early 1790's and later tested this winter gun sled design in Quebec.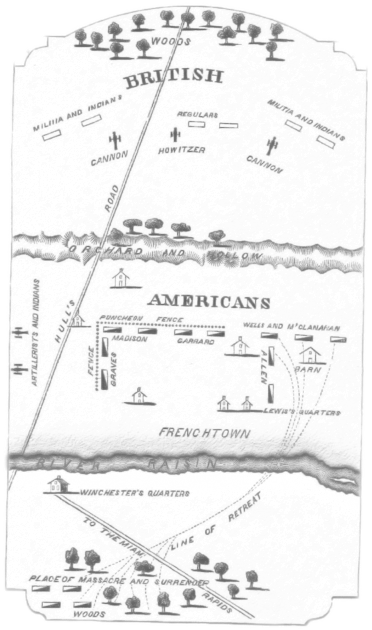 British artillery on the January 22nd 1813 consisted of six small cannons, mostly 3 ~ pounders, with some small howitzers. The artillery pieces were first positioned about 400 yards north, just south of the Mason Run Creek. These were used to good effect on the American Regulars in the the open ground on the site. They did not seriously affect the Militia behind the puncheon fencing surrounding the small settlement of Frenchtown (today known as Monroe Michigan).