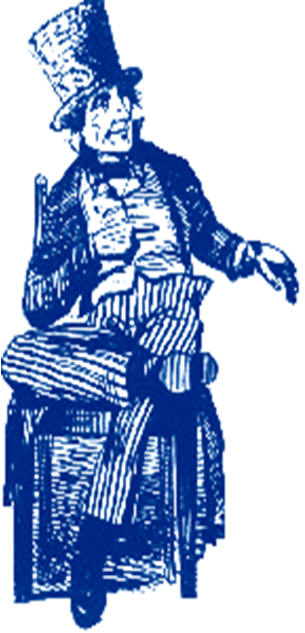 201st ANNIVERSARY, BATTLE of RIVER RAISIN
SATURDAY, JANUARY 18, 2014
SCHEDULE OF EVENTS
8:30-10:00 am Participant check-in at Monroe Multisports Complex ice arena
10:30-11:30 Tactical Demonstration
11:30-12:30 Ceremonies at River Raisin National Battlefield Park Visitor Center


1:00-2:00 Speaker: "Students of War" by James Cousins
River Raisin National Battlefield Park Visitor Center
1403 E. Elm Avenue, Monroe, MI 48162
1:00 - 2:30 pm Complimentary luncheon for re-enactors
2:30 - 3:30 Public talk by Gerry Wykes at the Monroe County Historical Museum
The Monroe Multisports Complex is located at 333 N Dixie Hwy, Monroe · (734) 242-1300
The Battlefield Visitor Center is located at 1403 E. Elm Avenue (734)243-7136
--------------------------------------------------
Volunteers Wanted
Do you enjoy... Travel? Camping? Family Fun? Cooling out of doors? Teaching others?
Marching in Parades? Discovering how things were done in the past?
Exploring historic sites? Experimenting with ancient weaponry?
The camaraderie of shared interests?
......... then our living history group is for you!!!
Join Lacroix's Company of Michigan Volunteers of the 2nd Michigan
Territorial Regiment
Contact ralphnaveaux@att.net or call 734.289.2253
Attend one of our training workshops scheduled for 2pm, Sunday March 25 & April 29, 2012
at the River Raisin National Battlefield Park Visitors Center
1403 East Elm Ave Monroe, Michigan 48162
--------------------------------------------------
OPEN HOUSE 2014 May 17th
Scheduled Events: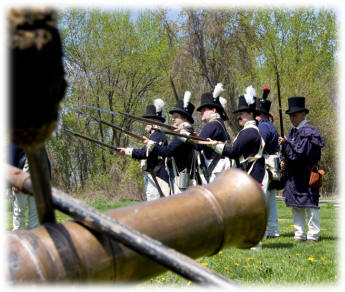 1812 Children's Games
Mini-militia & Candy "Cartridge" making
Archaeology Dig---for children
Cannon Demonstration & Firing
Tomahawk Throw
1812 Military Drill
1812 Military Artifact & Long-Arm Display
Musket Demonstrations
Living History Encampment
Clothing of 1812
Medicines of 1812
Historical Cooking Demonstrations
Walking History Tours of the Battlefield
Local Artists & 1812 Memorabilia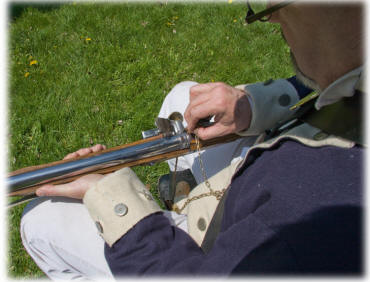 Saturday May May 17th


This event is Free &
Open to the Public!
--------------------------------------------------
201st Anniversary Commemoration
Of The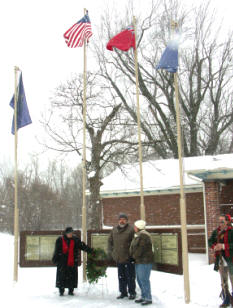 Battles Of The River Raisin
January 18, 2013
Join the many participants from Michigan, Ohio, Kentucky and Canada, along with Native Americans and residents of Monroe Michigan as we remember this bloody battle and massacre that took place on January 22nd and 23rd, 1813.
The commemoration is held on the very ground along the River Raisin where hundreds of lives were lost in a struggle for freedom and sovereignty during the early years of the United States.
TENTATIVE SCHEDULE FOR JANUARY 18, 2014
8:30-10:00 am Participant check-in at Monroe Multisports Complex ice arena
10:30-11:30 Tactical Demonstration
11:30-12:30 Ceremonies at River Raisin National Battlefield Park Visitor Center
1:00 - 2:30 pm Complimentary luncheon for re-enactors
2:30 - 3:30 Public talk by Gerry Wykes at the Monroe County Historical Museum
The Monroe Multisports Complex is located at 333 N Dixie Hwy, Monroe · (734) 242-1300
The Battlefield Visitor Center is located at 1403 E. Elm Avenue (734)243-7136
Please be aware no Black Powder is allowed inside the Building at the National Park Visitor Center
All participants will be required to complete a Volunteer in the Park (VIP) form
--------------------------------------------------
Maple Sugar Day at Navarre Anderson Trading Post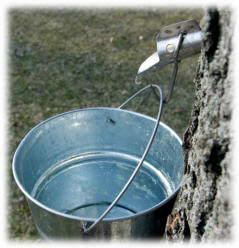 Call the Museum for details.
Presented by
The Monroe County Historical Museum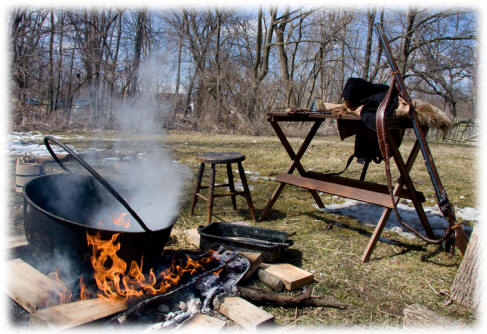 Visitors to the trading post complex will visit a 1790s maple sugar camp. The 'sugar bush' was a late winter activity that occurred when the sap began to rise into the trees as early spring approached. Visitors can watch as living historians make maple syrup following 18th century methods. Syrup was first used by Native Americans who discovered the maple tree's sap, when cooked, reduced to a sweet amber syrup. The hot syrup, when reaching this phase was often poured out onto fresh snow, which froze the syrup upon contact into a sugary candy. Further boiling of the syrup allows the sugar to solidify and be formed into cakes. Maple syrup has been enjoyed by both Native Americans and the European settlers for hundreds of years, just as we enjoy it today.

The Navarre Anderson Trading Post complex recreates a 1790s French homestead along the River Raisin. The main building, built in 1789, is one of the oldest wooden residence still standing in the state. Other buildings at the complex include an 1810 cookhouse and a replica 1790's French-Canadian style barn.

The Martha Barker Country Store will also be open during that time. This is the first time this year these buildings will be open to the public.

The complex is located 3775 North Custer Road in Monroe Michigan. For additional information call (734) 240-7780.

----------------------------------------------------
In June, visit an 1810 Militia Muster at the
Navarre Anderson Trading Post
Watch as the local Militia Practice Military Maneuvers & Drills
Tour the complex's Historic Buildings
Experience Life in the early 19th Century
Learn about the Militia from a local Militiaman & Tour the Militia Camp<![if !vml]>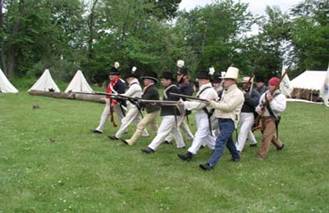 <![endif]><![if !vml]>
<![endif]>
For additional information, please contact the
Monroe County Historical Museum at (734) 241-7110
-----------------------
The Annual
River Raisin International Fife & Drum Muster
June 2014
Monroe, Michigan
This will be a site to behold in Historic Downtown Monroe!
----------------------------------------------------
Fur Trade Day
Navarre-Anderson Trading Post
Held annually in May

Experience the 1790's fur trade in person;
Listen in as preparations are made for a fur trade expedition
Visit with Native Americans as they come to trade
Help scrape deerskins
Find out if you have what it takes to be a voyageur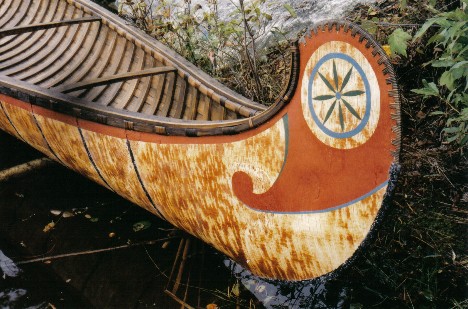 Enjoy the aroma of food cooked over a open woodfire
Watch a musket firing demonstration
Navarre-Anderson Trading Post
3775 North Custer Rd
Monroe MI 48162
At the North East Corner
of Raisinville Road