Participant
Registration
Introduction
Setting The Stage
The War Of 1812
Soldiers Fare
Lacroix's Company
Today - Membership
Soldiers Uniforms
Clothing of the Period
Artillery and Weapons
of the River Raisin Battle
River Raisin Battlefield
Visitors Center
Friends Of the
River Raisin Battlefield
SOLDIER'S FARE
A normal daily ration for a soldier in the War of 1812 was 1 & ¼ pounds of beef (or ¾ of a pound of pork,) 18 ounces of bread or flour, 1 gill of liquor, plus salt, vinegar, soap, & candles. Soups were often made with whatever vegetables were in season, or with dried peas, etc. In the field, salt pork & hardtack biscuits could be substituted.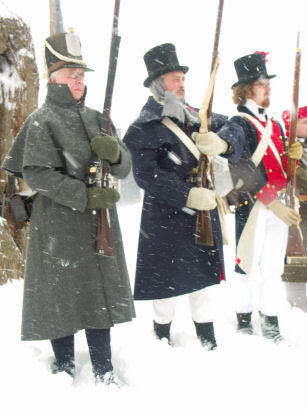 Cooking methods varied. Bread was sometimes made in camp by kneading the flour in a kettle or trough, drawing the dough out in long rolls, and coiling it around a smooth pole. To bake, the pole was placed on wooden forks driven into the ground in front of the fire.
On the march of the Kentuckians towards the River Raisin, private Elias Darnell wrote in his journal that they ran out of flour, but found abandoned fields of corn along the Maumee River (near present-day Maumee, Ohio.) They pounded the corn into cornmeal for baking bread. They called their camp, Fort Starvation, because of the lack of food. However, Darnell also mentions the arrival of a herd of hogs, which were kept for meat.
Officers' day books also mention the soldiers shooting at small game animals along the way. In fact, General Winchester became so concerned about the wastage of ammunition, that he limited the men to carrying only 10 rounds in their cartridge boxes, and had them inspected at the end of each day's march.
On the 17th of January, a detachment marched 18 miles down river to the small village of Presqu'ile, at the mouth of the Maumee. On the 18th, they continued across the ice of Lake Erie, arriving at LaPlaisance, where they ate a cold lunch before moving on to drive the British out of French Town. (Darnell mentions an earlier detachment eating parched corn, but he doesn't mention what his detachment ate at LaPlaisance.) After the fight on the 18th, they took over the supplies the British had been gathering, consisting of 30 barrels of flour and 2000 pounds of beef.
Darnell described French Town as a culinary paradise, where the troops could obtain an abundance of flour, apples, cider, butter, sugar, and whisky. According to research by Dennis Au, in addition to what the British had gathered, the local citizens had 3 or 4 hundred more barrels of flour in storage.
In the few days between the battles of the 18th & 22nd, the widow Jacob offered room & board, so at least some of the soldiers (or at least the officers) may have gotten home cooked meals, most likely some stew made from the captured beef, but perhaps even fancier items, such as tourtiere. General Winchester no doubt ate better than the rest, for he stayed at the home of Lt. Col. Francis Navarre, the most prominent citizen in the settlement at the time of the battle.