What is Lacroix's Company?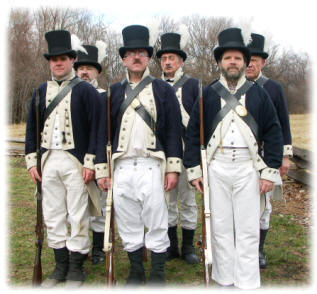 At the beginning of the War of 1812, Hubert Lacroix (pronounced Hew bair Lah kwah) raised a company of volunteers from the 2nd Michigan Territorial Militia Regiment, headquartered at French Town on the River Raisin in the District of Erie (which stretched from the River Huron, south of Detroit, to the Maumee River in present-day Ohio.) Its purpose was to help build Governor Hull's military road to Detroit, escort the U.S. Mail, and protect the settlement from attack by the British and their Native American allies. The troops were equipped and eventually paid as volunteers with the Michigan Legionary Corps.
Today, Lacroix's Company is made up of volunteers who are dedicated to preserving the living memory of our community's past by recreating, as best we can, the clothing, activities, and skills of the early inhabitants of the historic River Raisin settlement. We have been named the official War of 1812 Bicentennial Re-enactment unit by both the City and County of Monroe, Michigan. Our members work closely with the staff of the Monroe County Historical Museum to support living history programs at the Navarre-Anderson Trading Post and the River Raisin Battlefield Visitor Center.
Our membership is drawn largely from southeastern Michigan, but we are open to any person interested in portraying the militiamen of the River Raisin area and their families. Many of our members are serious students of the time period and are well skilled at reproducing the lifestyles and clothing of the period. We often travel to events both in and outside of Monroe County, including the "First Siege" at Fort Meigs, the "Historic Weekend" at Put-in-Bay, and the "Battle of Mississinewa" in Marion, Indiana.
All members are encouraged and assisted in acquiring period skills and historical backgrounds. As a volunteer militia company, it is expected that males between 18 and 60 who are physically able should make a serious effort to acquire the proper uniform and equipment and participate in the military activities generally scheduled at living history events.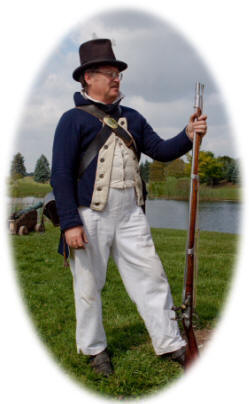 What about your uniforms and equipment?
Since we are all volunteers, as were the members of the original company, we bear the cost of procuring our own uniforms, food, travel, shelter, and much of our equipment. At living history events, we avoid obvious 20th Century anachronisms like modern eyeglasses, jewelry, watches, rings, polyester fabrics, hairstyles, tennis shoes, nail polish, etc. Some events have very strict authenticity requirements and camps are run on a semi-military basis, while others are more geared to civilian-style militia musters. We occasionally do parades and ceremonial events as well.
Some of our members have the skills to make their own clothing and equipment using materials and methods accurate for the time period of the early 19th century. Others have recourse to tailors or seamstresses familiar with period clothing. It is often necessary to conduct research to be sure that proper patterns and materials are used – wool, linen, cotton, brass, pewter, leather, steel, wood, &c. There are numerous commercial sources for some of the more common items of clothing and a great deal of the equipment, but we highly recommend that new recruits consult with current members before they purchase any items. Current members are willing to assist the new recruit with the gathering of the necessary items and there is a full page on this site devoted to assisting in finding all you will need.
This is a general list of what a Lacroix militiaman
might wear or bring to an event:
| | | |
| --- | --- | --- |
| blue uniform coat | white vest | high-waisted white pantaloons |
| black shoes (brogans) | stock or neckerchief | round hat with cockade & white plume |
| half gaiters | wool socks | suspenders |
| flintlock musket | cartridge box | bayonet & sheath with crossbelt |
| canteen | haversack | tomahawk |
| eating utensils | period food & drink | folding stool & table |
| toiletries | wool blanket | tentage |
| cooking utensils | prepared cartridges | cleaning supplies |
| | | |
How much does it cost?
The greatest initial costs for new recruits are the uniform coat, which may run into several hundred dollars, and the musket & its accoutrements, which can easily come closer to $1,000. Used items can sometimes be found and much lower prices.
Lacroix's Company is not a legal entity on its own, but is a sub-committee of the Friends of the River Raisin Battlefield, and members pay the modest annual dues required by that organization. The Friends of the River Raisin Battlefield is a non-profit, 501c3 tax exempt organization, so some re-enactors have been able to deduct certain items on their tax returns, but it is recommended that individuals consult their professional tax preparer.
Travel expenses can be lessened by sharing vehicles, overnight shelter, food preparation, etc. Event hosts and sponsors often provide free camping, food, firewood, and other amenities to their participants.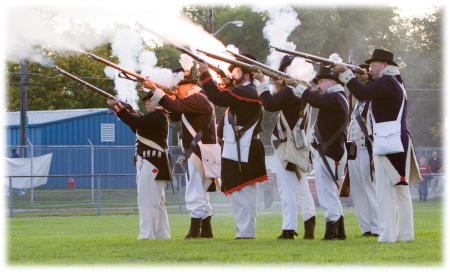 Why do you do some drills in French?
Almost 90% of the population of the District of Erie during the War of 1812 were French-speaking. They were descended from the French-Canadian voyageurs and fur traders who settled Michigan Territory during the preceding century. Lacroix's original company was set up to operate bilingually with the "Yankee" administration in Detroit. Of the 3 officers, two bore French family names, and one was Ango-Amercan. The same ratio was maintained among the sergeants and corporals. Very few of our current members speak any French at all, but we have had some fun applying a few phrases to our daily activities.
Our early inhabitants came to be called the "Mushrat French" because of the often marshy areas in which they lived and because muskrats became an important part of their diet during the hard, starving times of the War of 1812. As with the language, just a few of our members relish that dish today.
Who can join & participate?
Anyone who joins the Friends of the River Raisin Battlefield is eligible also to join Lacroix's Company provided they are willing to obtain the proper clothing and equipment and are serious about their living history presentation. In order to participate in most encampments and camp activities, minors must be accompanied and supervised by a participating parent or legal guardian.
In addition, there are minimum ages for participating in the following activities: Musicians, flag bearers, and any unarmed persons going onto the field must be at least 14 years old and supervised by a responsible adult; soldiers handling weapons must be at least 16 and supervised by a responsible adult. Participants of any age must receive introductory training in drill and weapons handling before taking the field at a battle re-enactment.
While military activities are the core of many events, civilian and camp demonstrations are equally important. Females and children were generally found cooking, cleaning, and doing other camp chores. Females can also support the troops on the field and demonstrate medicinal & herbal remedies, portray some leisure activities or games, and household skills like sewing, spinning, finger weaving, etc.
Become a Lacroix's member today!
Drop the commander an email with any questions!
Join us for the bicentennial celebration!